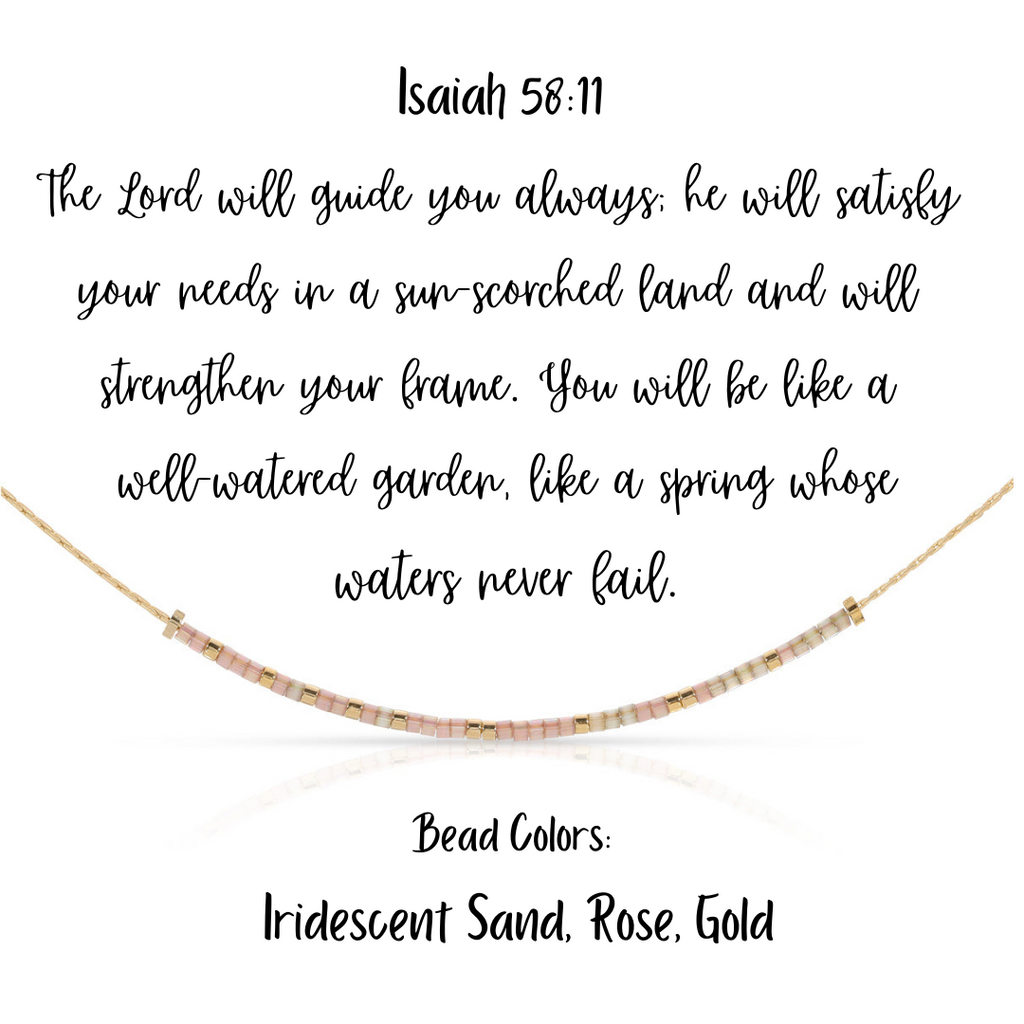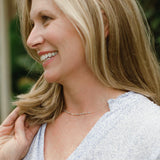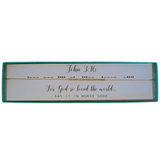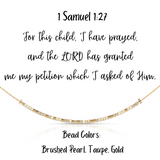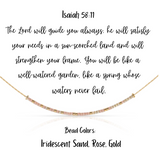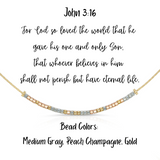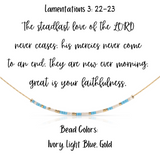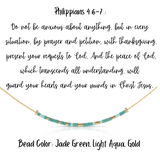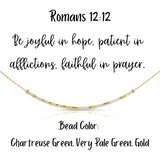 Scripture Jewelry in Morse Code
42.00
J
ewelry using Morse code and beautiful beading. This combination creates a lovely way to wear one of your favorite Scripture verses. There are so many amazing promises and truths from God's Word that it will be hard to choose just one. 
Morse Code Design:
we represent the dots by one color glass bead and the dashes by a second color bead. We separate each Morse code letter by a gold bead. If there is more than one word, we separate each word by two gold beads. The end result is a beautiful and unique pattern. The beading spells out the reference verse. (ex. John 3:16)
The standard necklace length is 16.5 inches.
Made in America - each necklace is hand beaded in Austin, TX.
Verse: Isaiah 58:11 
The Lord will guide you always; he will satisfy your needs in a sun-scorched land and will strengthen your frame. You will be like a well-watered garden, like a spring whose waters never fail. 
Bead Colors: Iridescent Sand, Rose, Gold
Necklace length: 
Verse: Jeremiah 29:11 
For I know the plans I have for you, declares the Lord, plans to prosper you and not to harm you, plans to give you a hope and future. 
Bead Colors: Iridescent Pearl, Brushed Pewter, Gold
Verse: John 3:16 
For God so loved the world that he gave his one and only Son, that whoever believes in him shall not perish but have eternal life. 
Bead Colors: Medium Gray, Peach Champagne, Gold
Verse: Lamentations 3: 22-23
The steadfast love of the LORD never ceases; his mercies never come to an end; they are new every morning; great is your faithfulness. 
Bead Colors: Ivory, Light Blue, Gold
Verse: Luke 11:2
Our Father, who art in heaven, hallowed by Thy name...
Bead Color: Dark Gray, Smokey Iridescent Gray, Gold
Verse Philippians 4:6-7 : Do not be anxious about anything, but in every situation, by prayer and petition, with thanksgiving, present your requests to God. And the peace of God, which transcends all understanding, will guard your hearts and your minds in Christ Jesus. 
Bead Color: Jade Green, Light Aqua, Gold
Verse: Romans 12:12
Be joyful in hope, patient in afflictions, faithful in prayer. 
Bead Color: Chartreuse Green, Very Pale Green, Gold
Verse: 1 Samuel 1:27
For this child, I have prayed, and the LORD has granted me my petition which I asked of Him. 
Bead Colors: Brushed Pearl, Taupe, Gold